901 Lindsay Wedding and Event Catering Services
901 Lindsay handles all Chattanooga catering and food and beverage in-house. We pride ourselves on serving delicious options for all types of weddings and events and we have created some special menus specifically for this venue. Allow these menus to be a guide or suggestions as what you wish to serve at your next wedding or event in Chattanooga, Tennessee. Wedding catering is unique to each client and we recognize that and so we welcome you to also peruse other menus from our off-site catering company A Silverware Affair. We will work with you every step of the way to create something that is a true reflection of you for your wedding catering and wedding day.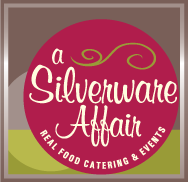 901 Lindsay also offers a variety of food stations, casual menus for all occasions, business luncheon menus, as well as holiday menus. Contact us today to start planning your perfect Chattanooga catering menu for your wedding or corporate event.
---
Request a Chattanooga Wedding and Event Catering Quote
Contact our Chattanooga catering company for a comprehensive quote by emailing [email protected]